Every time I want to learn something I try and make huge commitments. When I make those commitments there is always a chance that I'll regret it later. Commitments are not easy. It takes lots of time investment and we lose lots of time(and money sometimes) if we fail at it.
Commitment has not worked out in my favor most of the time. After I passed school, I committed to learn web design at computer institution. They told me, at the end of three months, I'll be able to work as a web designer. I thought it would be a really big achievement for me.
They offered me Rs 2,000 discount on total of Rs 10,000 if I'd pay for 3 months at once. However, instead of paying for 3 months at once, I decided to pay monthly. I paid around Rs 2,500 for the first month. I was admitted after that.
During the first day of class, I was really upset. They started teaching basics of computer for those who don't even have the idea of computer. It was really frustrating. I came there to learn to design web pages. They were literally teaching us how to create a 'new folder' and open 'My Computer'.
I went out and thought about the course for sometime, and figured out it was nothing else except a business. It was a huge business (probably a huge scam.) They used to collect phone numbers of people in illegal way, tell them they've won scholarship for the computer course and then drag them in.
So, the course was not only for wannabe web-designers but also for people who didn't know how to use computer. They had no idea what they were doing. They started to teach the basics everyday. However, since I had paid money for the month, I stayed there. And slowly they moved on to web design (I have no idea how computer newbies would learn that).
For my surprise, we were told to practice typing in typing tutor during our first practical class. It wasn't just for the first class, they made us practice typing tutor for about a week.
It was super frustrating.
When web design course was about to start, I became uninterested at it. I was thinking of doing something else. It was a huge turn-off for me.
They were taking the course very slow. I had enough of it. So, I left going there.
I was really thankful that I didn't pay money for all 3 months. Actually, I wouldn't even have been able to stay there for 3 months.
While I was there, I thought that I could learn all of it myself. I didn't have to go to some institution to learn to program or design web pages. It's me who will learn, it doesn't matter if I learn at home or institution.
I then bought a computer web-design book. To my utter surprise, it was outdated too, and sadly, it didn't help much.
That was probably the first time in my life I learned that books, institutions and college cannot help us until we are motivated to learn something ourselves. And if we can learn something ourselves, then why go to institution? Internet is way better than anyone of them.
Never trust college or institutions to learn something. It's you who will learn, they can't force anything upon you. And the best part of all this is that you can get any information you want for free in the internet.
I learned Business in College and I have no idea how to start a business. They literally taught me nothing except the definition of business and elements of business like organizing, planning, executing, and so on. It was all definition which we mugged up for exams.
Instead, I learned more about Business from books like:
The Personal MBA: Master the Art of Business
The Millionaire Fastlane
The Lean Startup
The 4-Hour Work Week
Infact, you're good to go if you read and follow some of the top business books/blogs(Seth Godin) available in the market and start your own business. Of course, you won't succeed at first try. You'll learn lots of stuffs along the way, which will help you significantly in the long run. You should be willing to pay that price to learn new skill, instead of wasting your money and time on college or institution.
So, instead of trying to learn from institution, I used internet as a tool to learn web-design.
I won't lie to you, but I did have difficulty learning from the internet at the beginning because I was used to courses as in college or institutions. I had to struggle and get used to the new environment.
I didn't knew much about web-designing. However, After getting used to it, I started to learn about WordPress. People were talking about it all over the internet. And slowly I jammed up with WordPress.
I learned HTML at school, so I didn't need to learn it from scratch. And I found CSS easy with some practice. I played with PHP for sometime (Even though I'm not good at it.). I used this website to learn PHP/MySQL. So, I was ready to move along with WordPress.
I first started by changing style.css in WordPress. I changed the background color and text color at the beginning, and did similar simple stuffs. The idea is to do simple stuffs at the beginning so that you feel a sense of achievement, which will motivate you to move further. If you want to look at very bad example of the theme I created just by changing style.css files, check this website. It uses my theme. I know it's not impressive, but that's how I learned.
Make sure you check out if you have any local meetups on the subject you're interested in. Here we have WordPress Meetup every last Sunday of the month. I got lots of help and inspiration from the group. I met Sakin Shrestha, founder of catch themes there, and he always gave me some tips and tricks to move forward. He helped me a lot.
I had no idea how to start theme development, and he advised me to use Underscores (_S) starter theme and also helped me along the way. He did reviews and checked my work, and advised me accordingly.
It was all possible because of him and WordPress meetup group.
I refer to W3Schools.com for HTML and CSS. And if it doesn't answer, I simply google for solution.
I have been learning everything all by myself from that time. When I first started learning to code, I wished there was a course like tutorials (like in school or college). It was just a wish back then, but now, it's reality.
If you are interested to learn to program in a course like structure as taught in universities, then check out the list below.
Coursera: I personally learned to program using python through Coursera. If you are interested, it's called Learn to Program: The Fundamentals. It's going to start again so make sure you sign up. The courses available through Coursera stick to a schedule in the same way any other course would operate in the so-called real world.
Coursera have managed to do what many would have deemed impossible five years ago. They have convinced some of the highest level universities from around the world; including Stanford University, the University of Pennsylvania, UCSF, Princeton University, the University of Edinburgh, Caltech, and a handful of others, to put their most intriguing courses online, for free.
Codecademy: Learn to code interactively, for free.
Khan Academy : It is a free world-class education for anyone anywhere. If you have a laptop and a internet connection, you are good to go.
There are loads of materials in the internet through which you can educate yourself for free. It's not possible to track all of them, so I just listed some of the popular ones. You just need to be motivated enough to learn, and you can achieve it.
Here are list of general website to learn other stuffs:
TED: TED talks(some of the greatest ideas in the world) are recorded and made available on their website, for free, for the world to consume.
12 Dozen Places to Educate Yourself Online For Free
You're bored? That's so Awesome
I get more information and materials from the internet than I ever got from schools, colleges or other books. And there are lots of materials that can help you learn from scratch. When I first started, there weren't many materials, but now, there are lots of it. You can even learn to program while you are at work, or on a holiday. Anywhere, anytime you like.
I give zero fuck to any institution when I want to learn a new skill. I'm thinking of learning a new language shortly, all by myself. And it's totally plausible. You can head over to fluentin3months.com for ideas, tips, tricks and hacks. If you commit at learning a new language, you can learn it by yourself and be fluent in 3 months.
If you really want to learn new language head over to Duolingo.com, or Memrise.com or Ankisrs.net
What actually does institution do? They just steal your money and show you the way. And you have to know that there are many ways you can learn. You don't have to follow their way. Institutions have cleverly succeeded at fooling and making us think that there's only one way to learn new stuffs or build new skill.
Even if you follow their way, you are the one who will learn. So, if you don't have that drive to learn then you won't learn anything. You're simply screwed.
So, instead of going to institution, motivate yourself and start to learn on the internet. It's free and it's unlimited times more better than going to institution. If you are confused about something, there are lots of forum's or websites where you can ask question and get answer immediately.
If you are still in favor of institutions then consider reading these articles:
Google has stopped using GPAs to evaluate job candidates. They've announced they're going to shift the algorithm to downplay school and GPA, and focus on what you do online, because it's such a better indicator of how well you'll perform at work.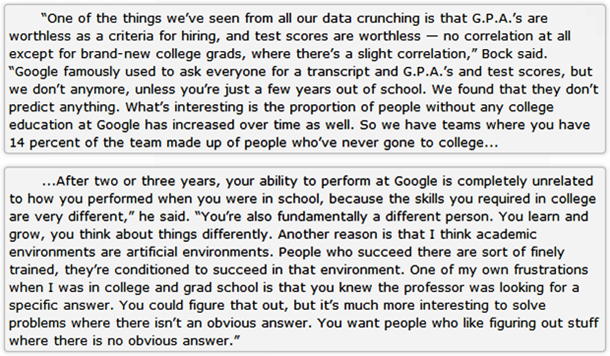 You just need to commit on learning new stuff, and you can learn it yourself with the help of the internet, you don't need institution.
Therefore, EDUCATE YOURSELF! There's no reason not to.
Lastly, consider watching this video, "The First 20 Hours: How to Learn Anything":
If you found this article helpful, don't forget to:
1) Subscribe for updates below. I'll send similar updated articles to you for free.
2) Send a link to this article ( http://enwil.com/educate-yourself ) to at least two friends. If you found this helpful, then, chances are, your friends will enjoy it too.
Happy Learning!