I've got a Facebook page and haven't yet promoted or shared. I've kept it for experimenting which I want to share with my blog readers.
I haven't invited any friends and I haven't shared my Facebook page anywhere.
The only place from where people can like my Facebook page is from the like button that located at the top right of this blog.
Now i want to experiment if inviting friends will convert better or not? Will sharing my page increase more likes? If yes, how much?
I just have 11 Likes at the moment. I could have done aggressive promotion of my Facebook page but I'm good without it. Your goodwill falls down as soon as you aggressively try to promote your Facebook page.
I secretly hate people who ask me to Like their pages, photos, status, etc. The most annoying part for me is when people send you unnecessary event notifications and game requests.*Blood Boiling point*
If people really like your content then they'll search the LIKE button and LIKE it themselves. No need to beg for it.
When you ask others to like your contents or pages you sound  like this: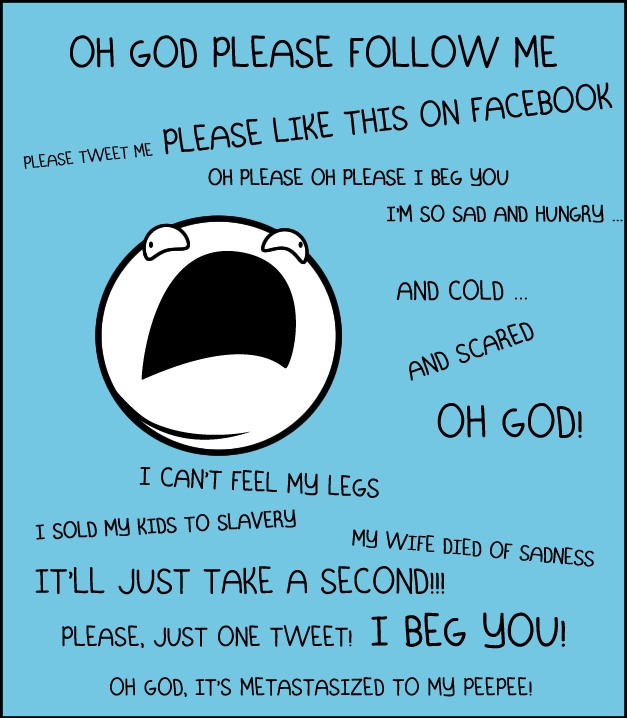 This picture is taken from oatmeal. You can check out their Facebook comic here.

I really don't want unnecessary people liking my Facebook page because it doesn't make sense. When there are people in my Facebook page who aren't interested in my blog then there's no point in writing status and blog posts for them. They're not interested anyway. We have more space, time and productive thoughts without them.  Excess people is just a distraction and it slows you down for no reason.
But if you use your page for social media marketing then you might want to think the other way around. Marketers need more people so that they can sell their product and services.
When it comes to social media marketing you want to make sure you get the most out of each and every single post you make in terms of reach.  One of the best ways to maximize the reach of your social media posts is understanding the best  and the worst times of day to share your content.
Did you ever wonder what is the best time to post on Facebook or to schedule your advertisement campaign?
Ok. Let's get down to this. The most important thing is your content. If your content is good then no matter which time you post the results will come out good.
Below are the timings that seem to work for most of the people on Facebook.
Best time to post: 1pm to 4pm
Worst time to post: 8pm to 8am
Peak time for posting is on Wednesday 3pm (I definitely noticed that Wednesday posts at 3 or 4 PM on Facebook get the most traction.)
Mostly Traffic builds after 9am
Traffic Fades after 4pm
Avoid posting on weekends
More Details:
Working Days i.e. Sunday to Thursday showed higher usage than Weekends.
There are two peak usage time spans meaning it's good to post contents:
From 11 AM to 5 PM Working hours
From 11PM to 12AM Midnight before sleeping.
But it's different for Weekends.
Friday:
From 1PM to 3PM
From 8PM to 10PM
Saturday:
From 10AM to 2PM
From 5PM to 6PM
From 8PM to 9 PM 
Most people say that it's best to post at around 11AM on Saturdays.  That's the time when it converts into higher Likes.
There are some people who hate this idea of posting at peak time when the traffic is high. They think peak time is not the best time to post.
Post when others don't so that your content is more likely to be seen and obviously less competition
This thing is getting really interesting.
What do you think is the best time to post on Facebook? Do you post on Facebook whenever you like or post on peak times when traffic is high?
Do you think posting on peak time will help?
Leave your comments below.